Ultra Minerals- the missing ingredient
Hi Everybody
I am back from my June hiatus on Forward Thinking Newsletter production, and excited to be sharing with you all again.  There is so much important stuff for us all to talk about regarding "food as medicine".
This is after all the theme of the BioImmersion Therapeutic Food Supplements.  First of all, we must consider the wisdom of our 3 billion year old mother of all teachers- Mother Nature (see Janine Benjus below in Green Facts).
When we think about food, the food chain comes to mind, and this cyclic reality begins with the autotrophs (green plants). What comes to mind here is BioImmersion's Organic Chlorella, our Phyto Power (wild-crafted berries from Alaska), our Cruciferous Sprouts, our Garlic, and our Blueberry Extract.  We offer the hormetic power of plant phytochemicals to heal.
But a prior to the food chain comes the raw material of earth from which our bodies are ultimately made- the inorganic elements (the minerals).  And, here we also have some very unique and powerful products- Ultra Minerals, Fructo Borate and BioOrganic Chromium.
For the purpose of your detailing and practical usage of, I will focus on the Ultra Minerals- Mesozoic Vegetate.  A true mineral multiple for us derived from DEEP TIME.
Back 65,000,000 years ago, in the late Dinosaur period, the earth had lush tropical forests teaming with all kinds of plant and animal life, and of course the earth's living microbiome.   In fact,  by weight the microbiome is heavier than all of the higher plant's and animal's mass combined.
Then came the crash- THE FIFTH MASS EXTINCTION- and for many of the higher forms (around 75%) life must start over again, reemerging from the bacteria, slime, mold, and higher surviving phyla.  Now here is the interesting and exciting part, around the world there exists still today accessible deposits of the ancient rain forests, and it is from one of these massive deposits that we obtain our Mesozoic Vegetate.  From this vegetable matter we exact 72 plant derived minerals for our ULTRA MINERALS.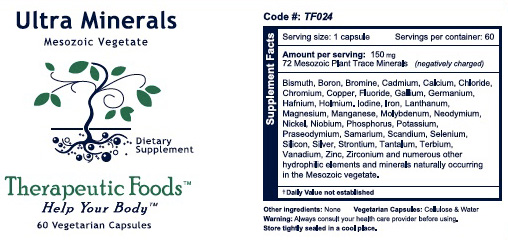 Using pure water, we are able to extract from the ancient peat (also referred to as "humic shale") 72 different kinds of nano-sized, negatively charged minerals in a hydro-collodial solution.  This liquid we then drum dry into an absolutely pure mineral powder.
Colloidal minerals are negatively charged, hydrophilic, and nano-sized.  They form direct hydrogen bonds with water, and are therefore water-soluble and nearly 100% instantly absorbable with digestion.  If you open up a capsule in water, it immediately homogenizes in the water, and the minerals are absorbable when rubbed on the skin.
We have put 150mg of this pure negatively charged mineral powder into vegetarian capsules, 60 capsules to a bottle.  Dosages are 1 to 4 capsules a day.  Ultra Minerals is manufactured under GMP, Kosher, GRAS, and is without excipients of any kind.  Check out the Specification Sheet on these minerals in Ultra Minerals by clicking on the foregoing link, and then clicking on the Ingredient tab.  These are typical and not guaranteed values, as some natural variation in the source Mesozoic vegetate occurs from production lot to production lot.
Plant based minerals are naturally chelated through plant root uptake and digestion.  This is important to understand for we know that aluminum for example in its insoluble aluminum oxide or hydroxide form is toxic to our bodies, but in its soluble aluminum sulfate form is not.  All of the aluminum in this ancient vegetate is in the form of aluminum sulfate and has GRAS status by our FDA.
Healthy mineral rich soil, filled with an abundance of microbes, makes for healthy plants, and healthy plants makes for healthy animals.  The historicity of use of these ancient peet deposits by locals around the world in their farming and the benefits derived for their animals and for human energy, stamina and health is very exciting.  We are pleased to bring you this powerful Therapeutic Food supplement.
Sincerely yours,
Seann
We have developed our products based on scientific research and/or the practical experience of many healthcare practitioners.  There is a growing body of literature on food based nutrition and supplements and their application in support of our health. Please use our products under the advisement of your doctor.
Green Facts:

Biomimicry's Janine Benyus, "The most important thing for us to do is to tune into nature's solutions, for its organisms have figured out a way to do the amazing things they do while taking care of the place that's going to take care of their offspring.  Learning about the natural world in one thing; learning from the natural world—that's the switch."
©2005 – 2017 BioImmersion Inc. All Rights Reserved