Phyto Power's Wildcrafted Alaskan Blueberry
Dear Friends,
Phyto Power—powerful, systemic, intelligent—just as nature made it!
Phyto Power makes for a very compelling Therapeutic Food.
Two weeks ago we talked about the rosehip content of Phyto Power, and last week its dandelion components. This week we will focus on Phyto Power's third and final therapeutic ingredient—its blueberries. We will also explain the manufacturing technology used to bring this amazing product to you from the wilds of Alaska and Northern Canada.
The whole, wildcrafted blueberry blend in Phyto Power comes from four species of blueberry:  Vaccinium ovalifolium (Alaska Early Blueberry), Vaccinium alaskensis (Alaska Black Huckleberry), Vaccinium uliginosum alpinum (Alpine Blueberry) and Vaccinium uliginosum mycrophyllum (Bog Bilberry).   The ovalifolium and the alakensis are high bush blueberries growing 6 to 8 feet tall.  The alpinum and the mycrophyllum are low bush blueberries similar to what are found in Nova Scotia.
The great lungs of the North:
Allow me to digress with you, ever so briefly, on the magical region from which these materials come—the circum-polar region.  As we look down from space on the North Pole, we see the Artic Ocean surrounded by the tundra and barren lands in tan, surrounded in turn  by the Boreal Forest in green (also called the Taiga), covering 6.41 million square miles.  The Boreal blankets 17% of the earth's land surface.  It is the great lungs of the North. It encompasses most of inland Canada and Alaska as well as most of Sweden, Finland and much of Russia, northern Kazakhstan, northern Mongolia and nothern Japan. As much as 30% of the worlds forests are in the Great North.  It is through our collaboration and partnership with the native peoples of Alaska and the First Nation peoples of Canada that we are able to obtain these magnificent wildcrafted products.  It is a business relationship that protects nature, and respects and protects her people.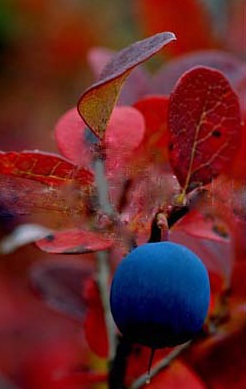 The stress for plants in dealing with a growing season of twenty hours of daily sunlight, while still being rooted in partially frozen soil, makes for an edible produce filled with exceptionally high levels of phytonutrients, whose role is to protect them from the sun's ultraviolet radiation and the grounds cold shock.  As with the rosehip and dandelion, the blueberry are busting with beneficial phytochemical power. Let's take a look.
Our Alaskan blueberry blend has the highest average flavonoid content of any whole (not extracted) Vaccinium product studied (even higher than European bilberry).  This is corraborated through ORAC, HORAC and NORAC antioxidant values.  They are higher than most, if not all, other superfruits.  The anthocyanin % is unmatched for a whole food:  4-6% standardized vs. 1.5% from other wild blueberry products.  It possesses higher amount of OPC (35.43 mg/g) than cranberries (32.65), cocoa (21.48) and other blueberries (19.99).  It delivers 8-10 times the beneficial compounds of cultivated berries.  In summary, our whole wild blueberry blend delivers around 20% total flavonoids, measured as >4% anthocyanins, >6% polyphenolics and >3% proanthocyanidins (wt/wt).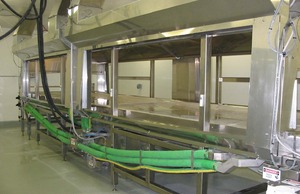 Finally, let's talk about drying technology.  In the case of our Alaskan product we use Refractance Window Drying (RD). Our collaborating partners have done studies on molecules that would be most labile, like Vitamin C, and there is no loss of potency.  In the case of blueberries, there seems to be an actual increase of the potency of the polyphenolics when using RD.  How is that possible?  It occurs through the freezing and shocking mechanism the berries go through.  Even though the berries are picked, the berries "think" that they are still alive, we know it through measurement as the berries' enzymes are still producing flavonoids. Life continues.  The enzymes production of flavonoids are stimulated into action by the manufacturing process of freezing and thawing into a puree and freezing again.  The material is then taken out of the freezer and put into a cooler over night until it is slush.  A small percentage of the leaves and tiny stems (stemlets) are also included because the native Alaska people have used them therapeutically for centuries.  The slush is then blended in a very robust puree machine, which makes a puree in one pass so there is very little air exposure.  A small amount of reverse osmosis purified water is added to the mix.  It is the purest of all waters.  The belt is 22 feet long and 6 feet wide, and is maintained at a near boiling temperature.  The mylar belt uniquely captues the refractive properties of light, transmits it through the product and quickly all the water has been converted to steam and removed through a big blower system.  Within a minute the product is dry and there is less the 2% moisture, usually around one-half a percent.  There is no degredation of the material. None at all. Beautiful, powerful, nourishing.
So there you have it—Phyto Power.  Two capsules a day provide the equivalent of 6 rosehips, a salad bowel worth of dandelion greens, flower and some root, and a small handful of whole blueberries. Taken on a daily basis the alive mix can greatly support our good health.  Bon appetit!
Sincerely yours,
Seann Bardell
Clinical Note:
What is the Therpapeutic Foods Paradigm?
Our bodies are so bombarded with pollution, pathogens and stress that they desperately need to be fed real food, sustaining food, energizing food, organic food with high actives.
Even if we eat seven servings of fruits and vegetables a day, it's good but it is not enough, we need powerful organic food, food that doesn't add more pollutants to our body burden, but food that impacts our bodies therapeutically and makes them strong.
Here is the link to read further about the Therapeutic Foods paradigm.
Also, read about the World Today, the reason we need to fight for a clean environment.
The Last Quiz Answer:
This little beauty is a young female goat, part of our entourage of goats, that make up the 400 plus member flock that provides us with organic goat whey and milk protein, along with concentrated bio-organic minerals.  They also manufacture for us organic goat colostrum to which we will be adding probiotic—all up and coming products in our Therapeutic Foods line.  We will have more pictures from this heavenly goat farm where the goats are well loved, as they freely move about between organic meadows and their barn for protection from inclement weather—and, of course, to be milked.
| | |
| --- | --- |
| | During the past few months, there has been much emphasis on the crucial role that the Common Agricultural Policy (CAP) reform will have for the future of European agriculture.  Public interest is growing, but to help foster greater understanding of the significance of the reform and the gravity of the decisions being made not merely for agriculture but quality of life in general – Slow Food and other civil society groups are organizing a public march starting in mid-August and culminating in Brussels on September 19 with a conference at the EU Parliament. |