Beta Glucan: The Heart – Gut Connection
Dear Friends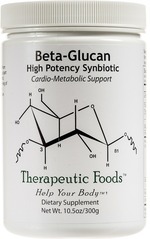 We are proud to have the Beta Glucan High Potency Synbiotic qualify for the American Heart Association and the FDA "Heart Healthy" seal of approval: improving lipid serum levels.*
The special heat-shearing technology used to liberate the beta-glucans from the oat is patented (US Patent # 6,060,519), and considered by the FDA as a gluten free ingredient (99.98% gluten free).*
The food ingredients in the Beta Glucan formula are chosen carefully for their highest phytonutrient potential. The proprietary mix contains: Organic matrix USDA patented hydrocolloidal beta glucan oat bran (75%), organic whole red beetroot (15%), and organic inulin from chicory fiber (10%).  Advances in microbiome research and technology allow us to grow our hardy and viable pedigreed Original probiotic strains. Our high potency Original probiotics, along with the B-Glucans, Beetroot, and Inulin offer heart healthy properties, GI support with plant fibers and probiotics, weight-management, regularity, and a boost in energy.*
Oats and oat beta glucan have enjoyed a rich cultural historicity and extensive research on heart health  (Andersson & Hellstrand, 2012). From Shaper & Jones (1959) analysis of healthy dietary habits, to the Cornell China study in 1998, and the NIH report in 2015, dietary fibers, whole plant-based foods, and exercise are shown to be essential for a healthy heart. Oats and oat beta glucan are found to reduce serum LDL cholesterol (Ho et al., 2016; Zhu et al., 2015; Whitehead et al., 2014; Wolever et al., 2010), improve liver function (Chang et al., 2013), and promote bowel regularity (Clemens, 2012; Mobley et al., 2014).*
Red beetroot offer a rich source of phyto-nutrients, including ascorbic acid (vitamin C), carotenoids, phenolic acids, and flavonoids. Beets provide a source of dietary nitrate, shown in research to have important implication for heart health (Kapil et al., 2014). Beet's nutrients are found to prevent oxidation of LDLs, lower triglycerides, and balance blood pressure (Clifford et al., 2015; Eggenbeen et al., 2016; Hobbs et al., 2013). As a multifunctional food, beets also stimulate Phase II liver detox (Vulić et al., 2014), as well as perform a host of other health benefits, including the production of energy for exercise (Murphy et al., 2012), promotion of joint health (Pietrzkowski et al., 2010), Antioxidant (Georgiev et al., 2010), and support for individuals who undergo oncological treatments (Kapadia et al., 2013, 2011; Das et al., 2013).*
The Beta Glucan formula is comprised of our Original probiotics proprietary blend: L. acidophilus, B. longum, L. rhamnosus, L. plantarum, S. thermophilus. Our Original strains of lactic acid bacteria are pedigreed and certified, based on ATCC prototypical strains and confirmed routinely by 16sRNA sequencing to provide highest quality probiotic material. Our strains are hardy, strong, and effective.*
The Original strains are mixed into a proprietary blend of 33 billion cfu/tbl, plus a bonus of 50 billion more probiotic organism added at the time of manufacturing to boost and ensure a high potency. If taken only as a probiotic formula, 1-2 teaspoons will provide a daily dosage of up to 25 billion cfu.
Probiotics are found in research to positively support heart health (Kassaian et al., 2017; Sáez-Lara et al., 2016; DiRienzo, 2014; Delzenne et al., 2011; Saini et al., 2010), with many researchers positing the connection between heart and gut health (Serino et al., 2014; Huang et al., 2013). The Beta Glucan was formulated to nourish both heart and gut into health.*
Inulin from organic chicory root supplies food for probiotic organisms. Probiotic organisms need soluble fiber like inulin to grow and multiply. See Slavin (2013) on fiber as prebiotics, and Dehghan et al. (2013) on inulin and cardiovascular support.*
Together with probiotic, inulin is also found in research to help tighten cell junctions, which is thought to aid against leaky gut syndrome (Cani et al., 2007, 2007a, 2008, 2009).*
The Beta Glucan formula is utilized for bowel regulation. Plant and oat fibers are shown to increase bowel regularity (Schmier et al., 2014).*
The Beta Glucan is multifunctional due to its oat beta glucans, red beetroot, inulin from chicory, and strong probiotic organism. Each ingredient is shown in research to offer heart healthy food, boost energy, and support the GI tract, liver and kidneys, promoting regularity and GI comfort.
Take a look at the references below to engage in learning more about the many health applications scientists have discovered over the years. These shows a fraction of the research findings on oat beta glucan, probiotics, red beetroot, and inulin.*
*These statements have not been evaluated by the Food & Drug Administration. This products is not intended to diagnose, treat, cure or prevent any disease. The information and citations of research are for informational purposes only. Please be sure to consult your health care provider before taking this or any other product.

References:
Article by Dohrea Bardell, PhD.
Sincerely yours,
Seann
We have developed our products based on scientific research and/or the practical experience of many healthcare practitioners.  There is a growing body of literature on food based nutrition and supplements and their application in support of our health. Please use our products under the advisement of your doctor.

Green Facts:

For those of you who missed Gabe Brown's TED talk sited in last weeks email, I am offering it up again.  Hear this most exciting evidence for what this big scale North Dakota farmer is proving through using the One Straw Revolution technique. Here's Gabe:  Regeneration of our Lands: A Producer's Perspective. 

©2005 – 2017 BioImmersion Inc. All Rights Reserved