A Powerful Supplemental Regime
Dear Friends
Join the vision for Therapeutic Foods! Tap into the healthy benefits of the high actives of these intelligently powerful pure foods. We have a foundational protocol that is both protective and restorative.
Today I will go over three of the six products for your daily regime, and will continue with the next three products tomorrow.
Here are your six foundational formulas for daily use.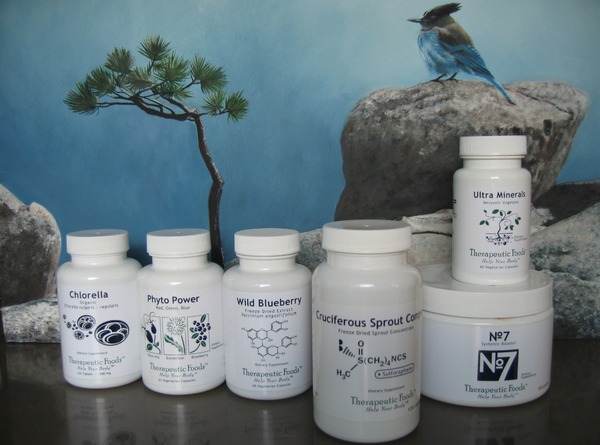 Sourcing of the raw materials for our products is everything.
Key agricultural technologies such as wild-crafting, biodynamic farming, eco-agriculture, permaculture, the one straw revolution, all of course pure (free of chemicals), represent farming methods that work with nature. These are farming technologies that we choose for the Therapeutic Foods' high actives.
In yesterday's newsletter I highlighted the power of pomegranate for preventing and reversing metabolic syndrome, diabetes and heart disease.  We also know that pomegranate protects us from cancer, and in particular skin and prostate cancers.
Pomegranate polyphenols, ellagitannin-rich extract, exhibit strong antioxidant activity in vitro and in vivo and inhibit the growth of prostate cancer cells (Pantuck et al. 2006; Seeram et al. 2007). Nutritional Genomics: The impact of dietary regulation of gene function on human disease. 2012 pg 125.
No. 7 Systemic Booster incorporates whole organic pomegranate and pomegranate extract, organic whole tart cherry, organic cranberry (whole and extract) and whole organic pineapple, and a whole host of other powerful ingredients.
It also contains probiotics: 10 billion cfu/tsp of certified medical strains of traditional Bulgarian pedigreed probiotics (L. casei, L. acidophilus, L. helveticus, B.longum and B. infantis), supernatant (inactive probiotic cell populations of L. bulgaricus– multi strain and S. thermophilus– multi strain and their metabolites).  And, finally the formula contains oligosaccharids (prebiotic fibers), vitamins, minerals, and cell rejuvenating natural compounds.  Click on the No. 7 link above to read more.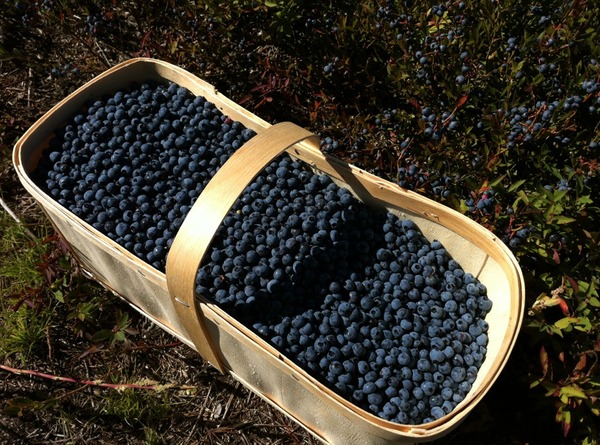 From the latitudes to the north we gather the health benefits of Canada's Wild Blueberry.  Click on the link above for a monograph on this product.  We brought this ingredient into the line to protect the cognitive functioning of our brain, and it provides so much more though in the way of health benefits.
It's been shown to reduce COX 2, Nf Kappa Beta levels in the blood, as well as isoprostate, a marker for lipid oxidation.  Portions of its phytochemicals are able to cross the blood/brain barrier and reduce oxidation and inflammation in the brain.  Our  brain is perhaps our most important organ.  It houses who we are, our very identity.  Those of us who care for an Alzheimer's ridden parent or a close relative understand the agoney of loosing a person long before death.
Numerous studies demonstrated that natural polyphenolic compounds protect against various neurotoxic insults in vitro and in vivo AD models.

Dong-Young Choi et al. Antioxidant properties of natural polyphenols and their therapeutic potentials for Alzheimer's disease. Brain Research Bulletin, Feb. 2012;87:pp144-153
Phyto Power contains four species of wildcrafted dandelions (aerial parts 90% w/w, roots 10% w/w and flower).  This is a typical harvesting meadow in Alaska.  It also contains Alaskan wild-crafted blueberries (four species) and rosehips (three species).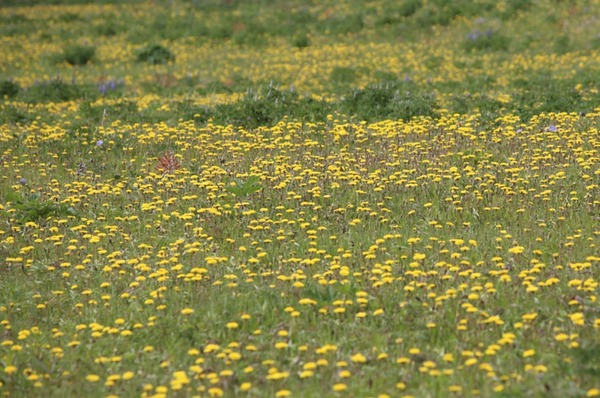 Robust consumption of the flavonoids reduces the risks of CVD, arthritis, diabetes, cancer, dementia, neurological disease, chronic degenerative diseases, the diseases of aging. Phyto Power is packed with flavonoids due to the Alaskan's long days of summers, rich volcanic soil, and perma-frost (partially frozen soil, causing plants to produce very high levels of actives).
Cultures that consume robust amounts of flavonoids and phytochemicals are cultures with robust longevity.
Sincerely yours,
Seann Bardell
Clinical Notes:
Recommended dosage:
No. 7- 1 tsp daily
Wild Blueberry Extract- 1 capsule daily
Phyto Power- 2 capsules daily
Cruciferous Sprouts- 2 capsules daily
Chlorella- 4 tablets daily
Ultra Minerals- 4 daily
The Last Quiz Answer:
Gelada baboons are not actually true baboons, although they look very similar and are easily recognisable by the patches of hairless skin on their chest, which turns crimson when females are in oestrus.  They are in fact the last survivng species of a once widespread group of grass-grazing primates.  Geladas live in large groups of as many as 600 members.  Such a complex society requires clear communications, and geladas use visual signals, such as facial expression and body posture, to interact. BBC NATURE
We are facing a national epidemic of childhood obesity, and as many as one in three children are at risk for life-threatening, often preventable diseases like diabetes, heart disease and metabolic syndrome.
Yet members of Congress and lobbyists are fighting to allow more sugar and junk in our kids'school lunches!  The US House of Representatives could vote as soon as this week.
Please take action and ask your member of Congress to vote for healthier school lunches.
                      ©

2005 – 2012 BioImmersion Inc. All Rights Reserved