Original Synbiotic- a daily probiotic
Dear Friends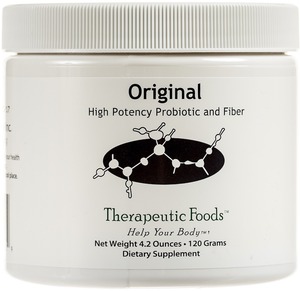 The Original Synbiotic is a daily probiotic for the whole family.
The Original probiotics are researched pedigreed strains of lactic acid bacteria that support the development of a healthy GI tract microbiome.
A healthy gut microbiome is dependent on strong and proven probiotics, such as the Original strains. The Original Synbiotic provides a powerful symbiotic combination of Lactobacillus acidophilus (ATCC 4356), Streptococcus thermophilus (ATCC 19258), Lactobacillus plantarum (ATCC 8014), Lactobacillus rhamnosus (ATCC 7469) and Bifidobacterium longum (ATCC 15707).
Our chosen probiotics are foundational ATCC strains shown in research to work together with human cells to perform many functions in the body. For example, these probiotic strains help the digestive system, support and balance the immune system, and enhance our nervous system by producing neurotransmitters. They reinforce the GI barrier function to protect us from xenobiotics and pathogens, even binding heavy metals. Moreover, they neutralize carcinogens such as those caused by heterocyclic amines found in blackened meat and elements such as nitrosamines in sausage. By acidifying the epithelial membrane, they enable the absorption of minerals such as calcium and magnesium more readily. And lastly, our chosen strains also support the important task of daily regularity (Syngia et al., 2016; Hardy et al., 2013; Figueroa‐González et al., 2011; Ng et al., 2009).
The Original Synbiotic suggested daily dose: one tsp daily.
Of the many beneficial functions needed to be performed by our probiotic friends, colonizing the GI tract membrane and thereby protecting from our body from pathogens and xenobiotics, is very important. Check out these studies on colonization (Toscano et al., 2017; Underwood et al., 2015; Panigrahi et al., 2008; De Champs et al., 2003; Sarem- Damerdji et al., 1995).
See the Original Synbiotic Monograph.
References:
De Champs, C., Maroncle, N., Balestrino, Damien., Rich, C., Forestier, C. (2003). Persistence of Colonization of Intestinal Mucosa by A Probiotic Strain, Lactobacillus casei subsp rhamnosus Lcr35, after Oran Consumption. J Com Microbiol; 41(3): 1270-1273.  https://www.ncbi.nlm.nih.gov/pmc/articles/PMC150315/
Figueroa‐González, I., Quijano, G., Ramírez, G., & Cruz‐Guerrero, A. (2011). Probiotics and prebiotics—perspectives and challenges. Journal of the Science of Food and Agriculture, 91(8), 1341-1348.
Hardy, H., Harris, J., Lyon, E., Beal, J., & Foey, A. D. (2013). Probiotics, prebiotics and immunomodulation of gut mucosal defences: homeostasis and immunopathology. Nutrients, 5(6), 1869-1912.
Ng, S. C., Hart, A. L., Kamm, M. A., Stagg, A. J., & Knight, S. C. (2009). Mechanisms of action of probiotics: recent advances. Inflammatory bowel diseases, 15(2), 300-310.
Panigrahi, P., Pradhan, L., Mohapatra, S.S., Misra, P.R., Johnson, J.A., Chaudhry, R., Taylor, S., Hanse, N.I., Gewolb, I.H. (2008). Long-term colonization of a Lactobacillus plantarum synbiotic preparation in the neonatal gut. J Pediatr Gastroenterol Nutr; 47(1):45-53. https://www.ncbi.nlm.nih.gov/pubmed/18607268
Sarem-Damerdji, L., Sarem, F., Marchal, L., Micolas, J.P. (1995). In vitro colonization ability of human colon mucosa by exogenous Lactobacillus strains. FEMS Microbiology Letters; 131(2):133-137. https://academic.oup.com/femsle/article-abstract/131/2/133/524865/In-vitro-colonization-ability-of-human-colon?redirectedFrom=PDF
Syngai, G. G., Gopi, R., Bharali, R., Dey, S., Lakshmanan, G. A., & Ahmed, G. (2016). Probiotics-the versatile functional food ingredients. Journal of food science and technology, 53(2), 921-933. doi:  10.1007/s13197-015-2011-0
Toscano, M., De Grandi, R., Stronati, L., De Vecchi, E., & Drago, L. (2017). Effect of Lactobacillus rhamnosus HN001 and Bifidobacterium longum BB536 on the healthy gut microbiota composition at phyla and species level: A preliminary study. World journal of gastroenterology, 23(15), 2696.
Underwood, M. A., German, J. B., Lebrilla, C. B., & Mills, D. A. (2015). Bifidobacterium longum subspecies infantis: champion colonizer of the infant gut. Pediatric research, 77, 229.  https://www.ncbi.nlm.nih.gov/pmc/articles/PMC4350908/
Sincerely yours,
Seann
We have developed our products based on scientific research and/or the practical experience of many healthcare practitioners. There is a growing body of literature on food based nutrition and supplements and their application in support of our health. Please use our products under the advisement of your doctor.
Green Facts:

In today's world the level of assault on our bodies from pollution, pathogens, and stress is so high that we need powerful food supplements.  Our bodies, after all, know exactly what and how to utilize food for therapeutic purposes.
At BioImmersion, we created the Therapeutic Food Supplement line with a new medical framework in mind: the power and intelligence of food. Our Therapeutic Foods are indeed potent food supplements that behave intelligenly in the body – repairing, healing, protecting and preventing.
©2005 – 2017 BioImmersion Inc. All Rights Reserved