Dear Friends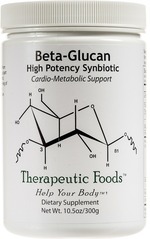 Over a billion people in the industrialized world are overweight or obese.  The rising tide of obesity leads to a constellation of disease conditions, from diabetes and heart disease to cancer and non-alcoholic liver disease (WHO, Fact Sheet Update, 2016).
The Beta Glucan High Potency Synbiotic promotes a healthy weight loss due to the gluten free oat beta glucan.*
Chang, H.C., Huang, C.N., Yeh, D.M. … Wang, C.J et al. (2013) conclude in their study entitled, Oat prevents Obesity and Abdominal Fat Distribution, and improves Liver Function in Humans, that consumption of oat reduced obesity, abdominal fat, and improved lipid profiles and liver functions. Taken as a daily supplement, oat could act as an adjuvant therapy for metabolic disorders.
Chang et al. (2013) performed a clinical trial to confirm the effect of oat. Subjects with BMI ≧27 and aged 18–65, were randomly divided into a control (n = 18) and an oat-treated (n = 16) group, taking a placebo or beta glucan-containing oat cereal, respectively, for 12 weeks. The data showed that consumption of oat reduced body weight, BMI, body fat and the waist-to-hip ratio. The researchers showed that profiles of hepatic function, including AST, but especially ALT, were useful resources to help in the evaluation of the liver, since both showed decrements in patients with oat consumption.
Our high potency Original probiotics, along with the B-Glucans, Beetroot, and Inulin provide not only weight-management benefits, but also strong support for heart, liver, GI tract and energy support (see references below).*
*These statements have not been evaluated by the Food & Drug Administration. This products is not intended to diagnose, treat, cure or prevent any disease. The information and citations of research are for informational purposes only. Please be sure to consult your health care provider before taking this or any other product.
References:

Sincerely yours,
Seann
We have developed our products based on scientific research and/or the practical experience of many healthcare practitioners.  There is a growing body of literature on food based nutrition and supplements and their application in support of our health. Please use our products under the advisement of your doctor.
Green Facts:

Vermonters are seeing the light!  Green Mountain Power is trying to turn homes, neighborhoods and towns into virtual power plants, to wean them off the electric power grid into total energy self-sufficiency.  A good investment of our time, energy and money?  Think if you had invested in Exxon or Amazon way back when.

©2005 – 2017 BioImmersion Inc. All Rights Reserved