Boron- the missing ingredient
Dear Friends
Boron is one of the most important minerals in our diet.  How are your boron levels?
The average American's boron levels are 1 mg/day; and, many studies have shown that the benefits to be derived from boron intake don't occur until levels of 3 mg/day and above are achieved (Price et al., 2012).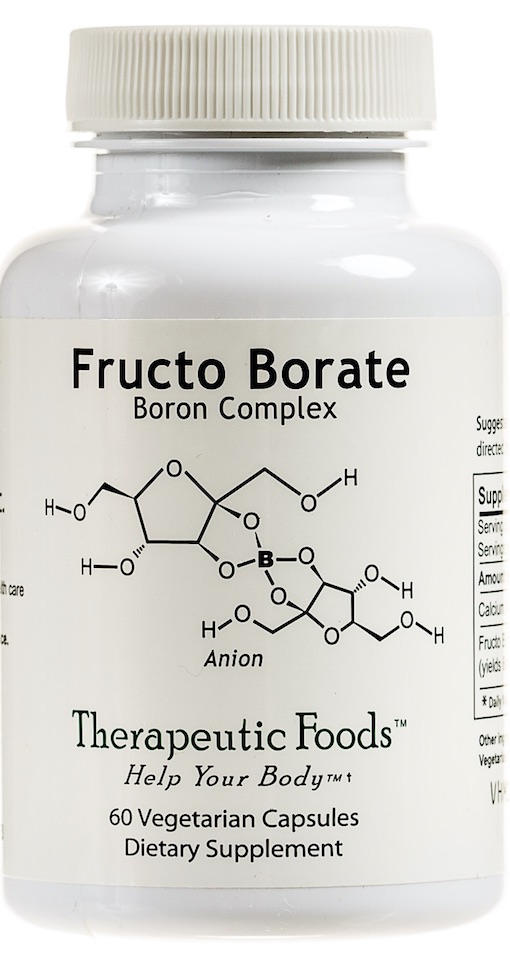 BioImmersion's Fructo Borate Complex is a new form of boron supplementation that duplicates the exact nature of the molecular structure of dietary boron found in fruits and vegetables— that is, boron in the food chain is always found bound to carbohydrate (US Patent #5,902,049).
Fructo Borate Complex contains 240 mg of Fructo Borate along with 260 mg of calcium ascorbate to provides 6 mg of elemental boron.  There is 500 mg per vegetarian capsule with 60 capsules per bottle.  There are no excipients of any kind.
Boron is found to be a missing mineral in our daily nutrition as industrialized farming has depleted boron from our soil. Fructo Borate Complex is a complex of calcium, natural fructose, and boron; exactly as it is found in fresh and dried fruits, vegetables, herbs and wine (Miljkovic et al., 2009; Price et al., 2012).  This form of boron is not only safe but also bioavailable compared with most commercial forms of boron (Scorei et al., 2011).
(See the references to the above concluding bullet points in the 2015 paper by Lara Pizzorno entitled, Nothing Boring About Boron)
What are possible benefits from adequate boron intake?
Is essential for the growth and maintenance of bone.
Greatly improves wound healing.
Beneficially impacts the body's use of estrogen, testosterone, and vitamin D.
Boosts magnesium absorption.
Reduces levels of inflammatory biomakers, such as hs-CRP and TNF-alpha.
Raises levels of antioxidant enzymes, such as SOD, catalase and glutathione peroxidase.
Protects against pesticide-induced oxidative stress and heavy-metal toxicity.
Improves brain electical activity, cognitive performance, and short-term memory in elders.
Influences the formation and activity of key biomolecules, such as SAM-e and NAD.
Has demonstrated preventive and therapeutic effects in a number of cancers, such as prostate, cervical, and lung cancers and multiple and non-Hodgkin's lymphoma.
May help ameliorate the adverse effects of traditional chemotherapeutic agents.
References:
Miljkovic et al. (2009). Calcium Fructoborate:  plant-based dietary boron for human nutrition. J Diet Suppl;6:211-226.
Pizzorno, L. (2015). Nothing Boring About Boron. Integr Med (Encinitas); 14(4): 35-48.
Price et al. (2012). Essential Nutrients of Bone Health and a Review of their Availability in the Average North American Diet. Orthop J;6:143-149.
Scorei et al. (2011). A Double-blind, Placebo-Controlled Pilot Study to Evaluate the Effect of Calcium Fructoborate on Systemic Inflammation and Dyslipidemia Markers for Middle-Ased People with Primary Osteoarthritis. Biol Trace Elem Res;144:253-263.
Scorei et al. (2011). Calcium Fructoborate—potential anti-inflammatory agent. Biol Trace Elem. Res; doi:10.1007/s12011-011-8972-6.
Sincerely yours,
Seann
We have developed our products based on scientific research and/or the practical experience of many healthcare practitioners.  There is a growing body of literature on food based nutrition and supplements and their application in support of our health. Please use our products under the advisement of your doctor.
Green Facts:

We've been talking, in our last two emails, about the deficiency of certain minerals in our diet, largely in part because they have become missing in our soil due to faulty farming methods.  If they aren't in the soil, they won't be in plants coming from these farms.

The following link is a fabulous and totally inspiring TED talk given by farmer Gabe Brown presenting us with an absolute solution on how we can feed the world if we start farming with nature as he has impressively demonstrated in North Dakota on his massive farm.  The Febuary 2016 talk is called: Regeneration of our Lands: A Producer's Perspective.
©2005 – 2017 BioImmersion Inc. All Rights Reserved