High ORAC- more powerful than ever.
Dear Friends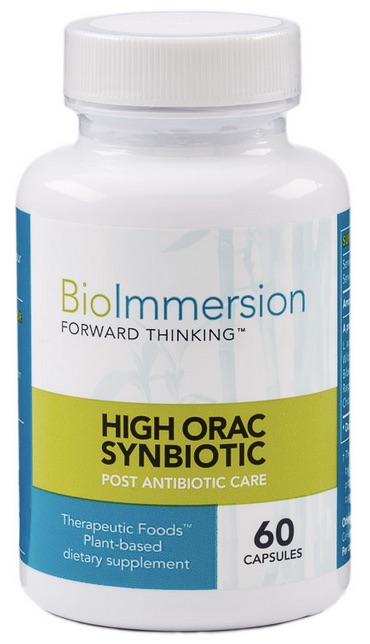 High ORAC Synbiotic is back in and what a powerful formula it is.
With a potent mix of polyphenols and two pedigreed strains of colonizing Bifido and Lacto species.
The CFU per capsule of L. acidophilus and B. longum (50:50 mix) is over 25 billion.
3000 ORAC value per capsule with grape seed extract, wild blueberry, quercetin, resveratrol, wild bilberry, cranberry, tart cherry, prune, raspberry and strawberry.
The organic chicory root inulin is 100mg.
We understand how upsetting back orders can be. One of our absolute commitments to you is creating the highest and most potent therapeutic foods, probiotics, and nutraceuticals. But to do so, at times, we have to reject batches of the raw materials. Plants and foods are unpredictable, with different moisture levels, potency, and consistency. The typical practice is to simply keep these batches and get a reduction in price to help profit margins. But this practice is not part of our sourcing, formulating, and manufacturing.
The BioImmersion's products are truly special, and one of a kind in the supplement industry for multiple reasons. We make small batches of each product often to ensure therapeutic potency.  Our sourcing of raw materials is strict and thorough; plants are grown to produce very high actives.  We encapsulate without excipients, which means there are no flowing agents, fillers, or additives. We are currently the only company that fills every plant-based (vegan) capsule with only high active, powerful ingredients.  Our collaborating partners are holistic minded scientists, doctors,  farmers, and manufacturing experts — a network of thoughtful professionals who care greatly about your health.
It is very difficult, expensive, and time consuming to produce such fresh, pure, and powerful products in small batches. Please know that we have you in mind when we produce each and every batch of our products. Call us for suggestions on what to use as different foods and probiotics are multi-dimensional and can easily preform the same tasks.
To your health!
References
Sincerely yours,
Seann
We have developed our products based on scientific research and/or the practical experience of many healthcare practitioners. There is a growing body of literature on food based nutrition and supplements and their application in support of our health. Please use our products under the advisement of your doctor.
Green Facts:

We believe that alive, potent foods is real medicine. Consuming mostly a whole food, plant-base, organic diet is the medicine of the future for all humanity to truly thrive.
©2005 – 2018 BioImmersion Inc. All Rights Reserved