Happy New Year Everyone!
Brain food!
Remember there's 15% off all our products until January 7th, 2015.  Just use the coupon code HOLIDAY15 at checkout to apply our seasonal savings gift.
Why berries to protect our brains? Here is a great reason:
Berries are excellent foods for the brain.  Substances present in blueberries can both reduce oxidative stress and improve communication between brain cells.  

Blueberries, strawberries, and blackberries have all been shown to slow or reverse age-related cognitive decline in animal studies, and blueberries have now been tested for their effects on human memory (1). Older adults with mildly impaired memory were given wild blueberry juice as a supplement, and after as little as 12 weeks, measures of learning and memory had improved (2).  The antioxidants in cherries have also been shown to protect brain cells against oxidative stress, implying that eating cherries may help to prevent neurodegenerative diseases like dementia (3, 4).  In people with mild memory complaints, those who drank pomegranate juice daily performed better on memory task compared to placebo and displayed an increase in brain activation measured by functional MRI (5). (Fuhrman, 2014)
Reference:
1. Shukitt-Hale B:  Blueberries and neuronal aging. Gerontology 2012;58:518-523.
2. Krikorian R, Shidler MD, Nash TA, et al:  Blueberry supplementation improves memory in older adults. J. Agric Food Chem 2010;58:3996-4000.
3.Kim DO, Heo HJ, Kim YJ, et al:  Sweet and sour cherry phenolics and their protective effects on neuronal cells. Journal of Agricultural and Food Chemistry 2005;53:9921-9927.
4. Raustadottir T, Davies SS, Stock AA, et al:  Tart cherry juice decreases oxidative stress in healthy older men and women. J Nutr 2009;139:1896-1900.
5. Bokkheimer SY, Renner BA, Ekstrom A, et al:  Pomegranate juice augments memory and FMRI acitivity in middle-aged and older adults with mild memory complaints.  Evid Based Complement Alternat Med 2013;2013:946-298.
Visit our Facebook page for the full Fuhrman article link (don't forget to 'Like' the page to see more excellent articles!) 
The key to supporting good health: eat a variety of berries throughout the day to bring in the anti-oxidant and anti-inflammatory properties of these potent berries. Therapeutic Food supplements make this eloquently and powerfully possible. 
Clinical Notes:
Take the following daily for powerful brain protection and cognitive enhancement:
Blueberry Extract:  100% North American Blueberry flavonoid extract. Concentrated to supply the anti-inflammatory power of the blueberry's broad spectrum of anthocyanins. Take one capsule daily in the morning around breakfast.
Phyto Power:  Wild-crafted Alaskan Blueberry (four species, whole fruit), wild-crafted Alaskan Rosehip (three species, whole fruit) and wild-crafted Alaskan Dandelion (four species, whole plant).  Take two capsules daily around lunch.
No. 7 Systemic Booster:  Contains organic pomegranate (whole fruit and extract), organic tart cherry (whole), organic cranberry (whole fruit and extract), organic pineapple (whole), organic soluble chicory fibers (inulin), 5 Bulgarian probiotic organisms, our famous supernatant, and a variety of supportive nutriceuticals.
Take one teaspoon daily around dinner time.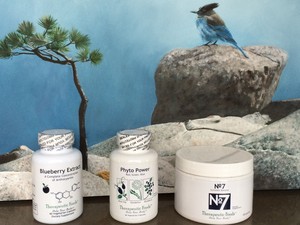 Part of the reason we suggest these around meal time is that the normal process of digestion creates free radicals itself, and when we have powerful fruit aboard, their damaging effects are minimized.

Environmental Working Group (EWG)
Many organizations are making their final push to raise funds before the year is out and EWG is one we believe is worthy of your attention to contribute to a healthier planet.
A persuasive e-mail written by the world-renowned activist Erin Brokovich says it the best:
EWG isn't afraid to take on industry and their millions of lobbying dollars. EWG doesn't shy away from the fight for clean water and toxics reform and giving powerful information directly to consumers.

What EWG does is hard, and it sure isn't cheap. But we need EWG to be an independent advocate for us, and EWG depends on people just like you for nearly half of its funding.
©2005 – 2014 BioImmersion Inc. All Rights Reserved